The new 24-karat gold Royal Coffee Maker, from Royal Paris, is possibly the world's most extravagant coffee maker. Handcrafted in 24-karat gold or silver, using crystal and semi-precious stone, it retails between €9,500 – €17,000 / $10,000 – $18,000 / £8,000 – £15,000.
Only eight bespoke Royal Coffee Makers are produced by hand each month, with each numbered machine taking more than 50 hours of painstaking workmanship.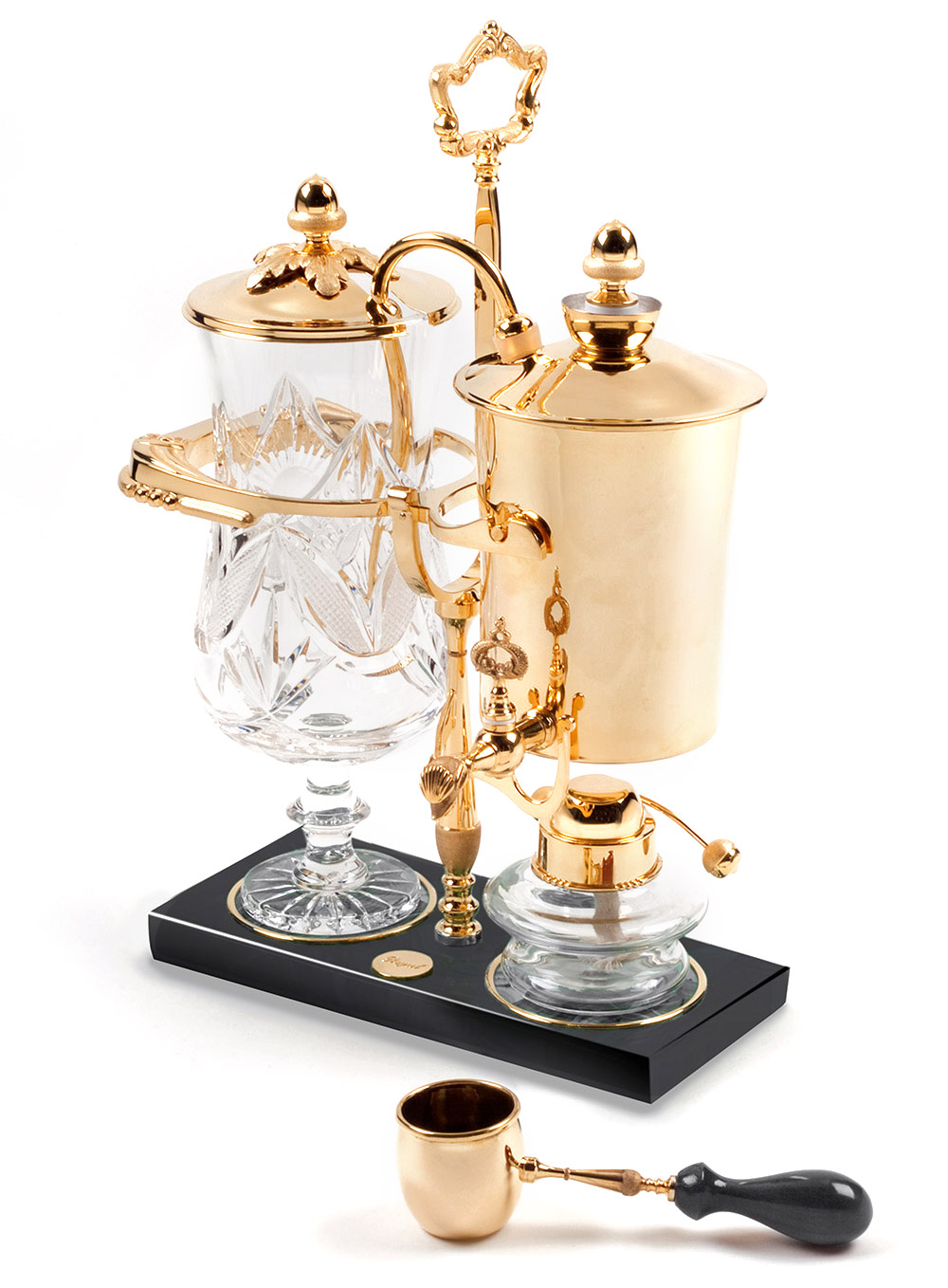 French artist Jean-Luc Rieutort brings to life the exceptional craftsmanship more commonly seen in fine jewellery to the Royal Coffee Maker.
Working alongside a team of skilled sculptors, metallurgists and engineers, he has recreated the historic balancing syphon used by royalty in the 1800s.
Turning the art of brewing coffee into a ceremony, ground coffee is first placed in the fine Baccarat crystal carafe, hot water poured into the boiler pot and the Baccarat burner vase, lit. Next, the fully automated system allows heat, steam and gravity to brew the coffee in the crystal vase.
A bespoke, customisable coffee maker
And as the world's first bespoke coffee maker – it can be personalised too. Choose from 24-karat gold, copper or silver options, and a semi-precious black obsidian, azurite or malachite base, with or without your engraved initials, company name, or family crest.
"It's taken us more than three years of research and development to produce this entirely unique coffee maker," says Maria Tindemans from Royal Paris. "This luxury coffee machine is an elegant echo of the opulent age of salon coffees when only the best coffee was reserved for the rich and famous. And unlike today's modern coffee machines, a Royal leaves nothing to chance. Every minute process is an exact science and every coffee made is unlike anything you'll ever taste."
For more information, photos and to order your customized Royal Coffee Maker, visit royalcoffeemaker.com
Gold Syphon coffee makers
Find other gold Syphon coffee makers on eBay or Amazon.