Harrods celebrates the release of the new Big Friendly Giant movie with a competition to win an exclusive Harrods Bank gold bar. On top of that, in one of the windows at Harrods Knightsbridge you can find  the most valuable gold bar on display in a UK store in a Dream Jar.
To celebrate the launch of the new Big Friendly Giant movie, directed by Stephen Spielberg, Harrods Bank has created a special Dream Jar filled with gloriumptious gold.
This gold bar, taken straight from the top-security Harrods Bank vaults, symbolises the priceless nature of brilliant dreams. It reminds us that in a child's dream, anything is possible.
To see the most valuable gold bar on display in a UK store, visit Harrods in London. The famous Harrods store windows are decorated with Big Friendly Giant costumes and sets and at one of the windows on Hans Crescent you can see the gold bar.
The Dream Jar can be seen during store opening hours Monday to Saturday 10:00 – 21:00 and Sunday 11:30 – 18:00.
The BFG movie is the story about Sophie, an orphan child who befriends the Big Friendly Giant.  The BFG fills Dream Jars with Phizz-Whizzing Ringbellers (that's really nice dreams, to you and I), for children to enjoy.  Together Sophie and the Big Friendly Giant, with a little help from 'Her Majester' the Queen of England, defeat the evil giants who prefer gobbling up 'human beans' to giving them pleasant dreams.
Win a Harrods Gold Bar
Harrods Bank offers all dreamers a chance to win Harrods 1 oz Gold Bullion Bar (see image below), current gold value around £850 or one of the two Gold Emoji Collectable Pendants which have a current value around £225 each.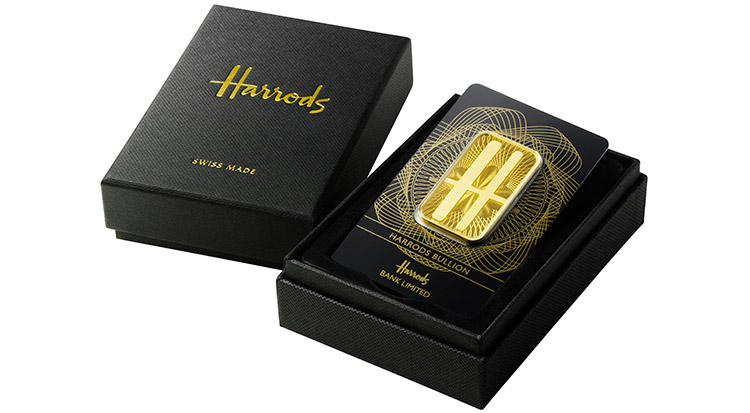 In partnership with PAMP (Produits Artistiques Metaux Precieux) the 1oz bar has been minted in 999.9 (24 karat) fine gold and bears the Harrods 'H' in high relief overlaying a guilloche, a monetary symbol, which integrates into the elegant protective certicard.
Each 1oz ingot is individually numbered and features VeriScan, PAMP's security system, which enables the piece to be authenticated in seconds.
Each Harrods bar is enclosed within a stylish matt black Harrods presentation box.
The prize is offered by Harrods Gold Bullion department, the specialist physical gold bullion dealing and storage service of Harrods Bank. Harrods Bank sells gold bullion bars and collectible coins from the Harrods department store since 2007 and now also offers gold bullion via the Harrods Bank website.
How to Enter
To enter the Dream Big competition on the Harrods Bank website tell Harrods what you would do with the Gold Bar.
Enter before August 31st 2016. The winners will be contacted on September 2nd 2016 and the winners need to pick up their prize in person at Harrods.
Visit harrodsbank.co.uk/BFG for more information and to enter.