The gold supercars of London are not to everyone's taste, but they are without a doubt a shining spectacle to see.
You might have seen photos of shiny gold supercars on Facebook or Instagram, or you may have even seen one of the gold supercars in London yourself. Let's take a closer look at some of these gold cars and who owns them.
Each summer dozens of extremely expensive supercars and luxury cars are flown in from Saudi Arabia, UAE and Dubai to the cities of London and Paris where Saudi families celebrate their holidays in style.
Supercars include Bugattis, Lamborghinis, Ferraris, Maseratis and of course the luxury cars from Rolls-Royce and Bentley.
Every year the cars get more extreme and more expensive. In 2013, for example, a chrome purple Lamborghini Aventador with bright orange outlines stole the show.
But no matter how shiny the purple Lamborghini may be, the gold supercars of London steal the show.
Gold Ferrari 599 GTB Fiorano by Hamann
One of the first gold Ferraris that appeared in London is this shiny gold and matte black Ferrari 599 by tuner Hamann. The car was seen in London in the summers of 2009 and 2011, and spotted in 2009 in the Cannes, South of France as well.
This 673 HP monster was said to be owned by a young member one of one of the leading rich families in Saudi Arabia. The car was regularly parked in front of the Jumeirah Hotel in Knightsbridge, London. The car was often accompanied by a Rolls-Royce Phantom Drophead Coupe tuned by Mansory.
Gold Ferrari 458 Spider
In 2014, another shiny gold supercar arrived in the city, a Ferrari 488 Spider with glossy gold wrap, licence plate FI IRAK.
The gold Ferrari is owned by kickboxing world champion Riyadh Al-Azzawi, who splashed the cash on his supercar to match the colour of his medal collection.
The gold Ferrari is fitted with black and gold Vellano wheels, a red leather interior.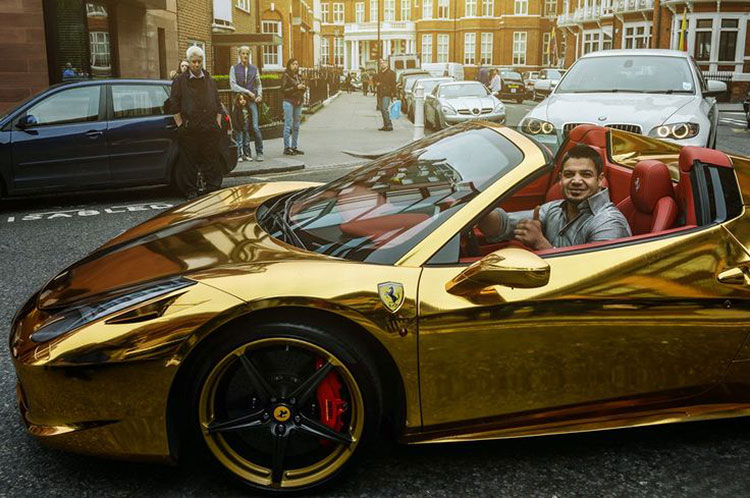 Watch car spotter Shmee150's report on the car:
A similar model was customized by LA based company MC Customs, see video of that gold Ferrari 458 in action:
The gold Ferrari 458 Spider from Riyadh Al-Azzawi is mostly spotted around Knightsbridge, Sloane Street and Mayfair in London, all hotspots for luxury cars.
Gold Lamborghini Aventador LP 700-4 Roadster 666 EDU
A gold Lamborghini Aventador LP 700-4 Roadster from Saudi Arabia was spotted in Paris outside of the Plaza Athenee Palace hotel in late August 2014. This might also be the same car that was seen later in London (see further down in this article) but this is not confirmed.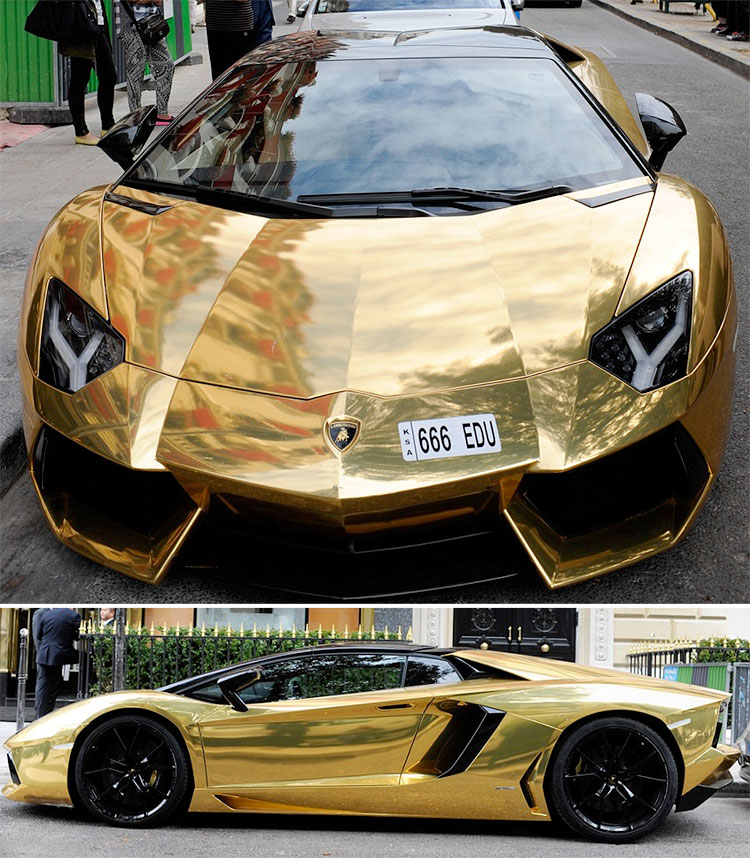 The car features the diabolic licence plate code of 666, shiny black wheels, side mirrors and roof. We don't know for sure who the owner is, but it is likely the same person that owns the next gold car in this series, the completely over the top Range Rover Hamann Mystere.
Gold Range Rover Hamann Mystere
This extravagantly gold wrapped and extra wide Range Rover Hamann Mystere was spotted in Dubai, London and Paris in 2014.
The car also features Saudi licence plates with 666, just like the Aventador mentioned above so might have been from the same owner, probably the person who owns 8 gold supercars and flew 4 of them in to London in 2016. Read on!
Gold Lamborghini Aventador, Rolls-Royce Phantom Coupe, Bentley Flying Spur, Porsche 918, Bugatti Veyron and Range Rover
Billionaire Turki Bin Abdullah, a 23 year old member of the Saudi Royal family, has decided to outshine everyone in London this year, with his complete fleet of gold wrap sports cars. He already brought some of his gold cars to London in 2014, 2015 (the earlier mentioned Aventador and Range Rover Hamann might have been his as well).
Besides a Lamborghini Aventador Roadster, Turki Bin Abdullah owns a Mercedes-Benz G63 AMG 6×6, Rolls-Royce Phantom Coupe, Bentley Flying Spur, Porsche 918 Spyder, Bugatti Veyron and Range Rover, all wrapped in gold.
Some of these cars caused quite a stir in Dubai in 2015 as the video below shows.
At least eight of his cars were covered in gold vinyl in Saudi Arabia, and four of those gold cars were flown in to London in March of this year, 2016.
Instagram and other social media have been filling up quickly with images of the expensive gold cars spotted in and round Knightsbridge.
Turki Bin Abdullah has been posting images himself of the gold cars on his Instagram page @turkiabdullah777.
In an interview with Daily Mail, Turki Bin Abdullah reveals he is friends with Canadian rapper Drake and American rap legend Dr. Dre, who is personally designing him a pair of one-of-a-kind solid gold Beats By Dr Dre headphones.
Two Gold Lamborghinis?
It seems like Turki Abdullah owns (at least) two different gold Lamborghini Aventadors.
Lamborghini Aventador LP 700-4 Roadster (2013 or 2014 model)
In the photo below he can be seen in a 2014 Lamborghini Aventador LP 700-4 Roadster, which might suggest that this is the same car as the first gold Aventador with licence plate 666 seen in Paris (mentioned earlier in this article), although the licence plates are different.
Lamborghini Aventador LP750-4 Superveloce Roadster (model 2016)
The gold model that is currently driving around in London is a newer and more powerful model, the Lamborghini Aventador LP750-4 Superveloce Roadster. It has black bumpers and sideskirts, a large black spoiler and SV written on the sides.
Looking at the Instagram page of Turki Bin Abdullah, it seems like he left the older gold Lamborghini in Saudi Arabia or Dubai this year, and took his new Aventador Roadster SV to London.
The oil-rich House of Saud, the ruling royal family of Saudi Arabia, is one of the richest families on the planet. So there's no limit to the kind of car that can be purchased, and how to customize it.
Besides th Aventador's, his 2016 fleet includes a six-wheel drive Mercedes-Benz G63 AMG, a Rolls-Royce Phantom Coupe and a Bentley Flying Spur by Mansory, all among the most expensive cars on the planet.
The other cars from the same owner that have had the gold treatment, but haven't been spotted in London yet are a Range Rover, Bugatti Veyron and Porsche 918 Spyder, pictured below with the older Aventador.
Gold Bentley Continental GT
There are several Bentley Continental GTs around the world wrapped in gold. This gold Conti was wrapped in London in 2015 by www.wrappingcars.co.uk and spotted in South Kensington.
Gold Maserati GranCabrio Sport in London
A British owned gold Maserati GranCabrio Sport has been spotted in London in April 2016 and got some attention thanks to the big "L" sticker on the hood. The L-plate means the driver is a learner under instruction.

See and hear the gold Maserati GranCabrio Sport drive around Knightsbridge, in front of Harrods, in the video below.
How to gold wrap a car
In the video below you can see the process of gold wrapping a Maserati GranTurismo MC Stradale. Very interesting to see how the gold vinyl is applied to the body of the Maserati.
Where to spot the Gold Supercars of London
Want to see the gold supercars of London for yourself? There are the locations where you have the best chance to spot the gold supercars of London:
Knightsbridge
Sloane Street
Streets surrounding Harrods: Brompton Road, Hans Road, Basil Street
Mandarin Oriental Hyde Park Hotel (Brompton Road)
Jumeirah Carlton Tower Hotel (Cadogan Place, Sloane Street)
Wilton Street and Wilton Crescent
Belgrave Square
and there's always a selection of supercars in front of the Dorchester Hotel, further up in Mayfair.